Still under business preview stage, EnCo needs your feedback now more than ever. That's why we often propose our top users to meet and to give a presentation of their project on the blog towards our users community. Today, let me introduce you to Said, Khalid and Adberrahim and their common project: Liiatech !
They call themself a "band of friends" hobbyist makers. They love "making things" but it is only in their free time for now: each one of them has a separated job. Their project is to create their own company, Liiatech. For now, Said Azoud is Application Manager at BNP Paribas Fortis, Khalid Ben Yaacoub is working in the Project Management Office at National Bank of Belgium and Adberrahim Mssassi is trainer and senior embedded systems engineer at ITN & ITPSCM. The band of friends is even broader, they have connections in various domains : Medical, Pharma, legal, finance,…
Together, they share a common passion in problem solving and transmission. They are busy building projects and open to create new businesses, of course, but it is not their only goal. In fact, they are great supporter of knowledge sharing values. They dedicate themself in educating young poeple at school and outside, day & Night!
Their first contact with EnCo was during Hackapost, and then, we met again at Think Things, the Proximus event dedicated to IoT.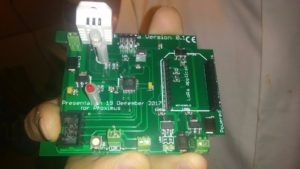 Today, they use EnCo in a project for which they are currently building a prototype. Let's not give away too many details… Let's just put it like that: they want to solve the challenge to build a solution for remotely lock / unlock LoRa connected doors via your smartphone ! They also described us another project: a Rail Switching Device to remotely monitor the shape of it. This project from ITN school students won the HR Rail and infrabel challenge. The french television RTBF talked about it here.